Title: The Star-Touched Queen
Author:
Roshani Chokshi
Publisher: St. Martin's Griffin
Published: April 26th, 2016
Genres: Fantasy, YA
Goodreads Synopsis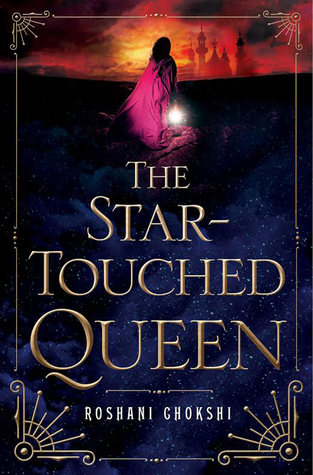 '
Cursed with a horoscope that promises a marriage of Death and Destruction, sixteen-year-old Maya has only earned the scorn and fear of her father's kingdom. Content to follow more scholarly pursuits, her world is upheaved when her father, the Raja, arranges a wedding of political convenience to quell outside rebellions. But when her wedding takes a fatal turn, Maya becomes the queen of Akaran and wife of Amar. Yet neither roles are what she expected. As Akaran's queen, she finds her voice and power. As Amar's wife, she finds friendship and warmth.
But Akaran has its own secrets - thousands of locked doors, gardens of glass, and a tree that bears memories instead of fruit. Beneath Akaran's magic, Maya begins to suspect her life is in danger. When she ignores Amar's plea for patience, her discoveries put more than new love at risk - it threatens the balance of all realms, human and Otherworldly.
Now, Maya must confront a secret that spans reincarnated lives and fight her way through the dangerous underbelly of the Otherworld if she wants to protect the people she loves.
Inspired by Indian mythology.'
My rating:
When I joined Netgalley a week ago, I didn't think I would actually be able to read an ARC of my most-anticapated 2016 release. When I got the e-mail that my request was accepted, I was like
This novel follows a girl named Maya, a girl who lives in a kingdom where horoscopes are very important, and she happens to have a very dark one. People are scared of her and bully her, and her only wish is to be free of her horoscope, marry a respectable man who treats her well, and she longs for knowledge. A sudden turn of events changes everything, and she finds herself married to Amar, the Raja of Akaran. Akaran is part of the underworld, or Otherworld, and mysteries about Maya's past begin to unravel and she soon finds out that there is more to Amar than she first thought.
First things first - I loved the Indian influence! The Indian culture is a big part of the story, and it's very well done. At least, for as far as I could tell. The imagery of the landscape, the architecture and the clothes Maya wore were beautiful, and I couldn't get enough of it. It gave the book a very magical and dream-like feel to it.
Roshani's writing often felt like a work of art, and I found myself re-reading some passages just because the wording and imagery were so beautiful.
The character development in this novel was phenomenal, and I truly felt a connection with the characters. Maya is a very strong main character, and I absolutely adored her. She doesn't let her horoscope define her and she has an amazing relationship with her sister Gauri, whom she reads to before bed and tells magical stories.
However, I didn't feel such a connection to Amar, the Raj of Akaran and Maya's love interest. His character felt very one-dimensional and I wish we got to know more of his backstory.
I really enjoyed the romance. It's one of the first YA-fantasy books I've read were there weren't any love-triangles or insta-love, and that's a big plus for me. I loved the scenes between Amar and Maya, and I wanted MORE since their dialogue was absolutely beautiful and had a very poetic feel to it.
"What do you want from me?




He stopped, the smile was gone from his lips.




"I want your perspective and honesty," he said, before adding in a softer voice, "I want to be humbled by you. My kingdom needs a queen. It needs someone with fury in her heart and shadows in her smile. It needs someone restless and clever. It needs you.

"
''You know nothing about me.'' ''I know your soul. Everything else is an ornament.''
A few things I didn't love about the book, except for the fact that Amar felt a bit one-dimensional, is that I would have liked to see a bit more world-building and some passages felt a bit rushed. I wish the book was about 100 pages longer, but then again, my Netgalley copy was 230 pages, and Goodreads says The Star-Touched Queen has 350 pages, so who knows? Maybe the final copy will be 100 pages longer.
Overall, The Star-Touched Queen was absolutely stunning and you don't want to miss it!