Title: The Siren
Author: Kiera Cass
Pages: 327
Publisher: Harper Teen
Published: January 26th, 2016
Genres: YA, Romance, Fantasy
Goodreads Synopsis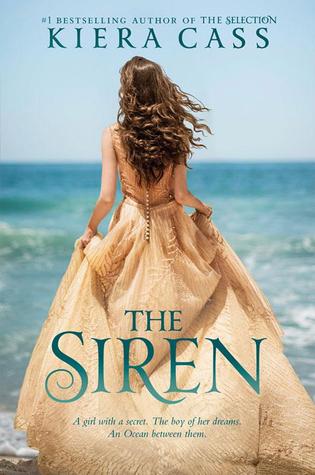 "From Kiera Cass, #1 New York Times bestselling author of the Selection series, comes a sweeping stand-alone fantasy romance.

A girl with a secret.
The boy of her dreams.
An Ocean between them.

Years ago, Kahlen was rescued from drowning by the Ocean. To repay her debt, she has served as a Siren ever since, using her voice to lure countless strangers to their deaths. Though a single word from Kahlen can kill, she can't resist spending her days on land, watching ordinary people and longing for the day when she will be able to speak and laugh and live freely among them again.

Kahlen is resigned to finishing her sentence in solitude...until she meets Akinli. Handsome, caring, and kind, Akinli is everything Kahlen ever dreamed of.

Falling in love with a human breaks the Ocean's rules. But for the first time in a lifetime of following the rules, Kahlen is determined to follow her heart.
"
My rating:
I loved the Selection series by Kiera Cass so because of that, and because of the fact that this book is about mermaids (which I find a very interesting topic) I had very high expectations. The Siren didn't meet my expectations, and it was very different from what I expected it to be, but I still really liked it.
The book starts off by telling us how our main character, Kahlen, became a siren. I loved how unique the mythology of the siren was in this book, and I especially loved the interaction and friendship between the sirens (or whatever the plural of siren is), especially the friendship between Kahlen and Aisling.
The sirens live together in a house in the real world, they move around a lot so they don't get noticed, and they do things that normal people do: they go clubbing, they paint, go to school, etc. Because their voices are deadly they can't talk and are seen as mute.
The relationship between the sirens and the ocean was quite hard to understand. The ocean is seen as some sort of god in this novel, and is talked about as She or Her. The ocean can call the other sirens when they have to sing, but the sirens can also talk to her when they need advice and she can be seen as a motherly figure.

The thing the book focuses most on is the relationship between Kahlen and the human-boy Akinli. The communication between Akinli and Kahlen was absolutely adorable, because they talked through handwritten notes and sign language. Akinli didn't seem to care that Kahlen was mute, and I loved how their friendship developed, and I especially loved the part where they're in a bookstore together reading children's books.
The romance fell a bit flat for me, because things moved very quickly between them and it felt a bit insta-lovey. Since I was expecting this to be a romance novel, I really wanted a bit more romance-building. After spending only (give or take) 1,5 days together, Kahlen is okay with the ocean adding 50 years to her service as long as she keeps Akinli safe. In the whole book, Kahlen and Akinli haven't spend more than 2 days together, while the book takes place over the course of several months.
The ending was very different than what I thought it would be, but it wrapped things up nicely and it was very satisfying. I might have cried a little.
The funny thing about this book is that I cared least about the characters we read the most about (Kahlen and Akinli), and I cared most about the characters we read very little about (Akinli's cousin and Aisling). I find myself wanting a sequel, but not about Kahlen and Akinli but about what happens to Aisling.
Overall, this book was a very quick and fun read, and I would definitely recommend it to anyone who is intrueged by the synopsis of this book.