Title: Stars Above
Author: Marissa Meyer
Pages: 369
Genres: YA, Fantasy, Romance
Publisher: Feiwel & Friends
Published: February 2nd, 2016
Goodreads Synopsis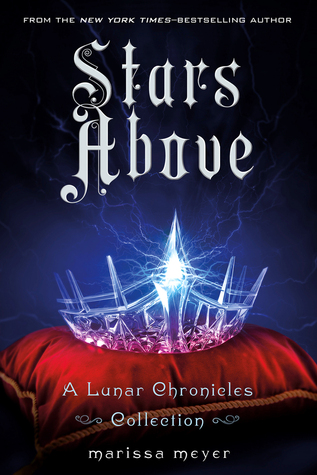 'T
he universe of the Lunar Chronicles holds stories—and secrets—that are wondrous, vicious, and romantic. How did Cinder first arrive in New Beijing? How did the brooding soldier Wolf transform from young man to killer? When did Princess Winter and the palace guard Jacin realize their destinies?
With nine stories—
five
of which have never before been published—and an exclusive never-before-seen excerpt from Marissa Meyer's upcoming novel,
Heartless
, about the Queen of Hearts from Alice in Wonderland, Stars Above is essential for fans of the bestselling and beloved Lunar Chronicles.
--
The Little Android
: A retelling of Hans Christian Andersen's "The Little Mermaid," set in the world of The Lunar Chronicles.
Glitches
: In this prequel to Cinder, we see the results of the plague play out, and the emotional toll it takes on Cinder. Something that may, or may not, be a glitch….
The Queen's Army
: In this prequel to Scarlet, we're introduced to the army Queen Levana is building, and one soldier in particular who will do anything to keep from becoming the monster they want him to be.
Carswell's Guide to Being Lucky
: Thirteen-year-old Carswell Thorne has big plans involving a Rampion spaceship and a no-return trip out of Los Angeles.
The Keeper
: A prequel to the Lunar Chronicles, showing a young Scarlet and how Princess Selene came into the care of Michelle Benoit.
After Sunshine Passes By
: In this prequel to Cress, we see how a nine-year-old Cress ended up alone on a satellite, spying on Earth for Luna.
The Princess and the Guard
: In this prequel to Winter, we see a game called The Princess
The Mechanic
: In this prequel to Cinder, we see Kai and Cinder's first meeting from Kai's perspective.
Something Old, Something New
: In this epilogue to Winter, friends gather for the wedding of the century...'
The Little Android

Mech6.0 notices something is wrong with her when she starts to develop feelings for the engineer Dataran, and she can't do her work properly because she only has eyes for him. When he has an accident and his life is in danger, she saves him, destroying her small body. As a last chance to get him to notice her, she visits Cinder to trade in her disfunctional body for one that once belonged to an escort droid. The catch is, her new body will not allow her to speak.
After reading this novella, I am convinced that Marissa Meyer cannot write something that I won't like. Every word that she writes seems to appeal me, and makes me feel very emotionally connected to the story. Even though this story was only a few pages long, I found myself sobbing towards the end.
Mech6.0 was a great character, and the romance was well, what can I say without spoiling you? It wasn't as I expected it to be.
Glitches

Glitches is the prequel to Cinder, where you see Cinder being introduced to her stepmother and stepsisters, and her fixing the discarded android, Iko. You also see the very emotional results the plague has on Cinder's new family.
This novella reminded me of how much I loved reading Cinder the first time, and how much I despised Adri. Even after reading all the other books in the series, Marissa Meyer found a way for me to hate her even more.
Also, how adorable is Peony? I loved the way she reacted to her dad bringing

home Cinder, and how they became instant friends. She is so sweet.
I do wish we got to know more about the dad, whose name doesn't come to mind right now. He is a total mystery. Why did he take Cinder? What connections did he have to Luna? I wish there was a prequel to this prequel, solely dedicated to him. Because what I read about him, I liked.
The Queen's Army
The Queen's Army is the prequel to Scarlet, and it follows Wolf (or Z). It's about how Wolf is taken away from his family, how he's genetically engineered to be apart of Levana's army, and it tells us about his training sessions. And Wolf's brother.
I never really liked Wolf. I thought he was very grumpy and sometimes even annoying (but looking back on it, if I were to be transformed into a wolf I'd be grumpy too). This novella made me change his mind about him, and I think that says something about Marissa Meyer's talent. I don't think anyone else could make me like a character I disliked for so long, in just a few pages. Okay, maybe 'like' is a very strong word, but I dislike him less.
This novella made my heart break for Wolf, and made me hate Levana even more. Oh god, I hate her so much.
Carswell's Guide to Being Lucky
Carswell's Guide to Being Lucky is a story about young (about 13 years old) Carswell. It's about his behaviour at school, his obsession with space ships and becoming a pilot. It's basically just a novella about Carswell being a total charmer, and I couldn't get enough.
The Keeper
The Keeper is the prequel to the entire Lunar Chronicles series, and it's about how the very young and almost dead Cinder came into the care of Scarlet's grandmother, Michelle Benoit.
It also tells us the story of Scarlet's past, and how she came to live with her grandma.
I really enjoyed this novella because it gave us so much background. Not only on Scarlet, but also on Michelle and her former Lunar lover. I absolutely loved Michelle's flashbacks to her falling in love with this Lunar man, and how he suddenly showed up on her doorstep with the missing/presumed dead Princess Selene.
I also really enjoyed the relationship Scarlett has with her grandmother. I loved reading about little, already very rebellious, Scarlet.
After Sunshine Passes By
After Sunshine Passes By tells us the story of a young Cress, and how she ended up in the sattelite.
This novella was both the shortest, and the one I disliked most. It felt like not a lot happened in this novella, and I just wish there was more. More of a background on Cress, and more about her interaction with the other shells. It is briefly mentioned that she hacked into the program to download something so the other shells could learn how to write, and that was probably my favorite thing about this novella. I wanted more like that.
The Princess and The Guard
This novella was most definitely my favourite! The Princess and The Guard tells us the story about Winter and Jacin (I'm still not sure how to say his name. Jakin? Jasin? Someone tell me please!), them growing up together and slowly but surely falling in love. It also tells us about the reason why Princess Winter won't use her Lunar abilities, and how strong she is.
I loved the relationship between Winter and Jacin. They are so sweet, and I loved how Jacin was always there for Winter when her Lunar sickness began. These two are definitely my OTP and I will love them forever.
Side note, after reading this novella I immediatly ordered the Winter and Jacin magnetic bookmarks from happyhelloco. They're adorable.
The Mechanic
The Mechanic tells us the story of Kai first meeting Cinder when he goes to visit this 'mystery mechanic' to repare his android.
This novella was enjoyable, but I didn't love it. Mainly because it just didn't add anything and I felt like I read it before. Probably because I did, but this time the POV was different.
Something Old, Something New
This last novella was the reason why I bought Stars Above. Not that I wasn't planning on buying it, but still. When the book arrived I immediatly sat down to read this novella, and it did not disappoint.
I can't tell you a lot about what this novella is about without spoiling you, but let's just say that it involves a wedding and a lot of happy tears. It was absolutely amazing and I couldn't stop smiling while reading it.