Pages: 320 pages
Publisher:
Delacorte Books for Young Readers
Published: September 1st, 2015
Genres:
Young Adult, Romance, Contemporary, Illness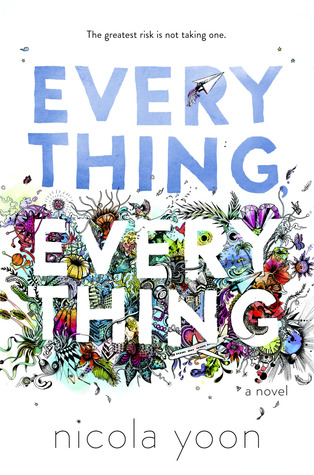 "My disease is as rare as it is famous. Basically, I'm allergic to the world. I don't leave my house, have not left my house in seventeen years. The only people I ever see are my mom and my nurse, Carla.
But then one day, a moving truck arrives next door. I look out my window, and I see him. He's tall, lean and wearing all black—black T-shirt, black jeans, black sneakers, and a black knit cap that covers his hair completely. He catches me looking and stares at me. I stare right back. His name is Olly
.
Maybe we can't predict the future, but we can predict some things. For example, I am certainly going to fall in love with Olly. It's almost certainly going to be a disaster."
Review
"Everything's a risk. Not doing anything is a risk. It's up to you."
I already know that nothing that I'll write here will do Everything Everything justice, since everything (everything) about it is amazing. (You see what I did there?)
Everything Everything is about a girl named Maddy who has SCID -

Severe Combined Immune Deficiency syndrome

. This basically means that her immume system doesn't work well and that she is allergic to, well, everything. Maddy hasn't left the house for 17 years, and the only people she sees are her mom, her nurse Carla and the occasional tutor. Whenever anyone enters the house, they have to go through some sort of air cleaner and stand there for an hour until they're thoroughly clean. Since she can't leave the house, all Maddy does is read books, do her homework and have game nights with her mom. Then one day, she looks out of the window and she sees her new neighbour Olly, and she falls in love with him. He makes her realise that she wants more from life than just living in this bubble. She wants everything.
Once I started reading Everything Everything I couldn't put it down. Nicola Yoon's writing is enchanting, and it feels like it's flowing off of the page. Instead of normal chapters, this story was told through short sections, chat-logs and one-scentence book-reviews, and I adored it. It made the story feel even more real, and it made it easy to fly through.
Maddy and Olly were great together and I shipped them from the beginning. Most of their interections are through chat logs, miming and writing on their windows, but Yoon makes it work. Olly helps Maddy see the world through sending her pictures of the books at the school library, and describing the ocean to her, which is totally adorable. However, my favorite character has to be Carla, Maddy's nurse. She is a parental figure in Maddy's life, and she often tells her just what she needs to hear. It was really nice to see two people having such a strong bond when there's no blood-relation.
This book made me understand what people mean when they say 'OMG THE FEELS' because this book made me feel every feeling all at once. The story is heartwarming and heartbreaking at the time, and sometimes it makes you want to throw the book away and punch your pillow out of frustration. (Not that I'd ever throw it away. I mean, just look at the cover, it's beautiful!)
I do have to admit that I had my questions about the 'plot-twist' at the end, but when I try to think of a way that they could've solved it, I come up blank.
Overall, this book was really great, and all I want to do is just sit on my bed and read it all over again.